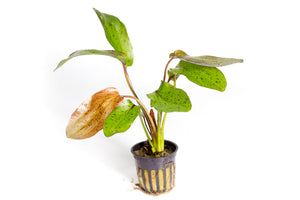 Ozelot Sword (Echinodorus Ozelot) Potted Plant
Plant Description:
The Ozelot Sword or Echinodorus 'Ozelot' is part of the Echinodorus genus. This variety of sword is a hybrid of popular aquatic sword plants. Their relatives are native to the Amazon River Basin in South America, where they do best fully submerged underwater in nutrient rich substrate.
Echinodorus 'Ozelot' is a plant that is adored because of its large size and broad leaves with deep-red spotting. This plant can be planted directly into the substrate and can be easily propagated by splitting the plant at the roots.
In the aquarium, the Ozelot Sword, it is a relatively easy to care for plant that requires medium lighting and medium fertilization or CO2 supplementation for best and bright coloration. It should be noted that Ozelot Swords are notoriously heavy root feeders, and root tabs may be used if leaves turn yellow or start to shed it leaves. Echinodorus is ideal for large aquariums where they will create a big impact!
This plant has moderate growth and may need to be split and pruned back to keep it in its best health and shape.
Plant Specifications:
| | |
| --- | --- |
| Origin: | South America - Hybrid (Echinodorus schlueteri x Echinodorus barthii) |
| Care: | Easy |
| Light Requirements: | Medium |
| Placement: | Mid-ground to Background |
| Size: | 30cm - 50cm + |
| Nutrient Requirements: | Medium Nutrient and Medium CO2 Supplementation Recommended - Heavy Root Feeder |
| Preferred Water Chemistry: | pH 6.5-7.5 |
| Growth: | Medium |