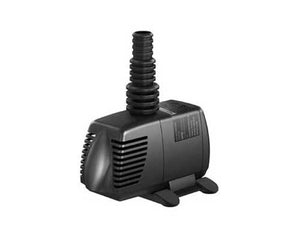 Mag Drive Submersible Water Pump (400~2000 GPH)
SR Aquaristik Mag Drive Submersible Water Pump
(available in flow rates from 400 to 2000 GPH/1,514 to 7,570 LPH)
SR Aquaristik mag drive water pumps are the complete solution for supplying water to external components like protein skimmers, calcium reactors or returning water from your sump back to your aquarium.
This unique energy-efficient design reduces maintenance and produces less heat than traditional motor-driven pumps. The pump is ideal for aquarium use; its ceramic shaft will prevent wear caused by small debris that will destroy traditional stainless steel shafts. Because the pump has only one moving part, there are less things that can go wrong with it. This pump is backed by a three-year warranty and can be easily made like brand-new with a replacement impeller kit. If for any reason you have problems with the pump, we will send you a replacement kit at no charge within the three-year warranty; thus saving you time and money.
Extremely energy-efficient, saving hundreds of dollars over traditional water pumps

Magnetically driven or "mag drive" motor technology is simple and easy to maintain

Durable pre-filter cage and sponge protects the pump and also reduces pump maintenance

Oil-free design prevents aquarium contamination

Comes complete with a multi-hose adapter

Provides years of trouble-free operation

Three-year

warranty that covers the pump as well as the impeller

CUL Certified in Canada and the United States.
Additional Information
SR AQUARIUM MAG DRIVE PUMP SPEC COMPARISON


Model

400GPH

550GPH

800GPH

1100GPH

1500GPH

2000GPH

SR Item #

2226

2227

2228

2229

2230

2231

Maximum Flow Rate (GPH)

400

550

800

1100

1500

2000

Maximum Head Height

7.5'

8'

9'

12'

16.5'

20'

Motor Type

Mag Drive

Mag Drive

Mag Drive

Mag Drive

Mag Drive

Mag Drive

Wattage

24

33

58

92

153

250

Amperage

.40

.55

.80

.85

1.46

2.60

Power Cord Length

12'

12'

25'

25'

25'

25'

Discharge Hose Diameter

1/2", 3/4", 1", 1.25"

1/2", 3/4", 1", 1.25"

1/2", 3/4", 1", 1.25"

3/4", 1", 1.25"

3/4", 1", 1.25"

3/4", 1", 1.25"

Dimensions

5.5" L x 4" W x 3.5" H

6" L x 4" W x 4" H

6" L x 4" W x 4" H

9" L x 5" W x 6" H

9.5" L x 6" W x 7" H

9.5" L x 6" W x 7" H

Warranty

3 Yr Limited

3 Yr Limited

3 Yr Limited

3 Yr Limited

3 Yr Limited

3 Yr Limited