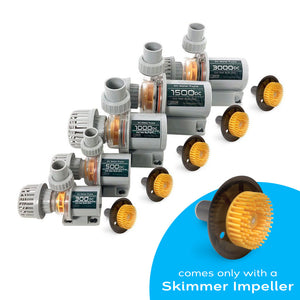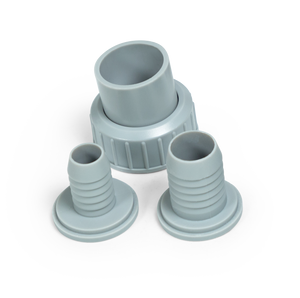 Silent Operation
Safe, Low Voltage
Digital Control
Safety Auto Shut Off
SR Aquaristik DC Electronic Adjustable Flow Skimmer Pumps are the complete solution for returning water from your sump back to the aquarium, or for running external components like protein skimmers. This unique energy-efficient design reduces maintenance and produces less heat than traditional motor driven pumps. The pump is ideal for aquarium use; its ceramic shaft will prevent wear caused by small debris that will destroy traditional stainless steel shafts. Because the pump has only one moving part, there are less things that can go wrong with it.
Please note that this pump comes only with a Skimmer Impeller. This pump is backed by a three-year warranty and can be easily made like-new with a replacement impeller kit.
**IMPORTANT INFORMATION WHEN SETTING UP**


 Click Here for Instruction Manual
DC 300 & 500 Pump Fittings
1 x 1/2" Barb Fitting
1 x 3/4" Barb Fitting
2 x 1/2 Slip Fitting
DC 1000, 1500, 3000  Pump Fittings
1 x 3/4" Barb Fitting
1 x 1" Barb Fitting
2 x 1" Slip Fitting