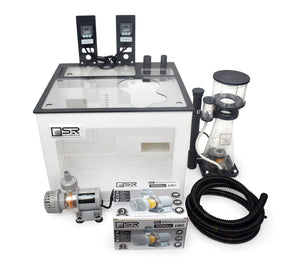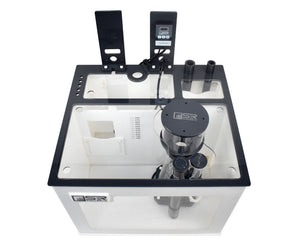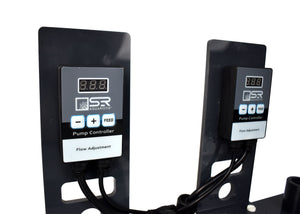 $549.98
This item is currently sold out.
This complete filtration kit is ideal for reef aquariums up to 80 gallons and features an amazing selection of high quality and stylish components.
Buy Now and receive a free Fragging Tool Kit - Retail Value $69.98
Comes complete with the following components:
SR Aquaristik Pro Sump 80
SR Aquaristik Pro Skim 80
SR Aquaristik 1000 GPH Adjustable Flow DC Pump 
12' of Kink Free Pipe
SR Aquaristik Pro Sump 80
The SR Aquaristik Pro Sump 80 was designed to combine functionality, design, and style in one convenient package. This quality sump will exceed the expectations of the most demanding aquarium enthusiast.
Features and Dimensions:
Skimmer Chamber: L 18" 46cm x W 9 ¾" 25cm
Return Chamber: L 11" 28cm x W 4 ¾" 11cm
Filter Socks: x 1
Auto Top Off Bracket: x 1
Drain 1: 1" x 1" Drain 2: 1" x ¾"
Overall Footprint: L 20" 50cm x W 17 ¾" 46cm x H 15" 38cm

SR Aquaristik Pro Skim 80
The SR Aquaristik PRO Skim 80 In-Sump Protein Skimmer quickly removes organic waste from saltwater aquarium water. A powerful needle wheel impeller pump creates ideal sized air bubbles that force organic protein into a collection cup for easy removal. The SR PRO Skim 80 is recommended for aquariums from 50-80 gallons. SR PRO Skim 80 Skimmers are built using flame polished cell-cast acrylic. The SR Protein Skimmer is equipped with bubble plates, modified cone necks, air silencers and needle wheel impellers for maximum performance and quiet operation. They also have minimized footprints to make installation as easy as possible in smaller sumps.
Product Specification
Filtration Rating: up to 80 Gallons with a light bio-load or 50 Gallons with a heavy bio-load

Footprint: 8"/20cm

Height: 15.5"/39.5cm

Max chamber diameter: 5 3/4" / 14.5cm

Outlet size: 1" quick-precise adjustment valve

DC Pump included

Pump power consumption: 18W

Controller included

Requires approximately 3/4" / 2cm of clearance to remove the collection cup
SR Aquaristik 1000 GPH Adjustable Flow DC Pump 
SR Aquaristik Adjustable Flow DC Water Pump is the complete solution for returning water from your sump back to the aquarium, or for running external components like protein skimmers. This unique energy-efficient design reduces maintenance and produces less heat than the traditional motor driven pump. This pump is ideal for aquarium use; its ceramic shaft will prevent wear caused by small debris that will destroy traditional stainless steel shafts. Because this pump has only one moving part, there are less things that can go wrong with it.
This pump is backed by a three-year warranty and can be easily made like-new with a replacement impeller kit.
12' Kink Free Pipe
Kink-Free Pipe is ideal for recirculating water without the use of PVC cement. The internal spiral prevents crushing while the smooth inner wall reduces friction and maximizes water flow. Kink-Free Pipe provides durability and flexibility, making installations quick and easy in a wide variety of applications. Kink-Free Pipe works best when used with traditional barbed fittings and stainless steel hose clamps to form water-tight seals.