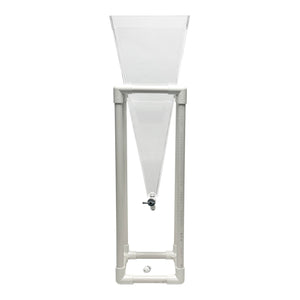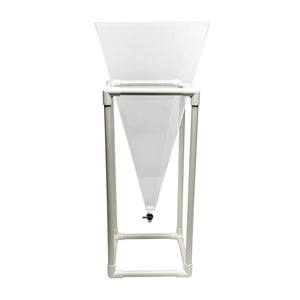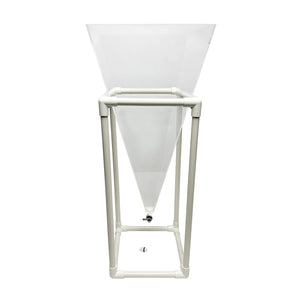 Product Description:
Available in 1 and 3 gallon sizes, this expertly crafted acrylic Brine Shrimp Hatchery is designed to provide you with absolute control over your shrimp breeding process. It is constructed with high-quality, durable acrylic that not only withstands constant use but also retains its clarity and strength over time. It comes complete with a sturdy PVC stand.
Innovative Design: Funnel shape and bottom valve helps to increase yield and separation.
User-Friendly: Designed with simplicity in mind, making it perfect even for beginners.
Efficient Breeding: Its unique design promotes efficient hatching and provides an ideal environment for the healthy growth of your shrimp, copepods, rotifers and phytoplankton.
Step up your aquaculture game with the SR Aquaristik Brine Shrimp Hatchery and stand - where quality meets convenience.
Please note that PVC parts will need to be glued together with PVC cement that is not included.
Sizes:

1 Gallon - Approximate Dimensions: 7.5" x 7.5" x 28" / 19.05cm x 19.05cm x 71.12cm                 Vessel Top:  8" x 8" x 8" / 20.32cm x 20.32cm x 20.32cm
3 Gallon - Approximate Dimensions: 11"x 11"x 30" / 27.94cm x 27.94cm x 76.2cm                        Vessel Top: 12" x 12" x 12" / 30.48cm x 30.48cm x 30.48cm