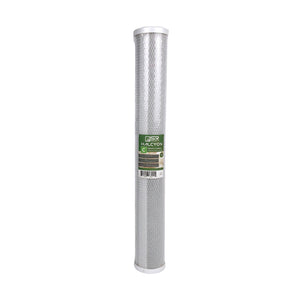 Compatible with all SR Aquaristik 20-inch RO/DI systems; works with almost all competitors 20" systems
1/2 micron carbon block filter
Made with FDA compliant materials
 The SR Aquaristik HALCYON 20" Carbon Block Filter is ideal for use in most commercial aquarium reverse osmosis units. Ideal for removing chlorine, chloramine and odors from tap or well water. Manufactured using the highest quality carbon for maximum chlorine, chloramine, VOC and general chemical filtration performance.