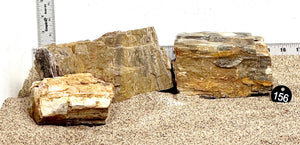 WYSIWYG #156BK - Petrified Wood Stone Aquascape Kit
Petrified Wood (fossilized wood) has a very unique color and texture. You can pile them on each other building great mountain scapes. Under water it gets a beautiful reddish / yellowish color which creates a great harmony with any wood and sand decoration. Petrified wood, also known as Fossilized Wood, is a wonderful stone that instantly brings age to an aquarium. Popular with aquascapers, the nature aquarium and Iwagumi.
Petrified wood is a type of fossil, formed underground over thousands of years. This stone brings beauty and texture to any aquarium or aquascape. It is as hard and dense as any other stone we sell and sinks easily.
The SR Aquaristik Petrified Wood Aquascape Kit contains a minimum of three hand selected, precleaned, heat treated and wrapped stones, ideal for creating the ultimate Aquascape.