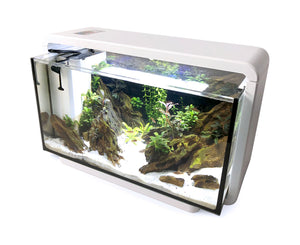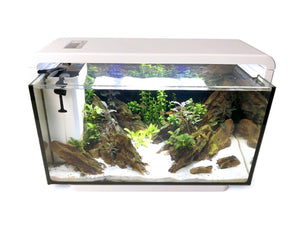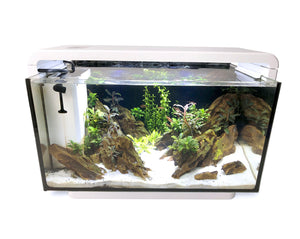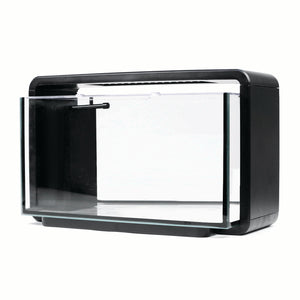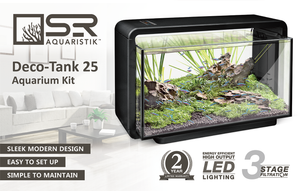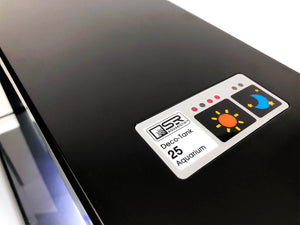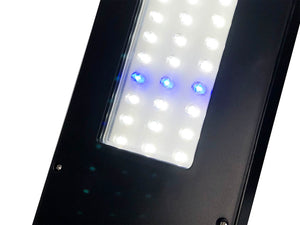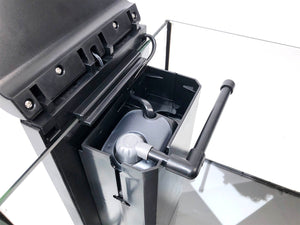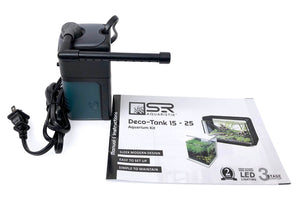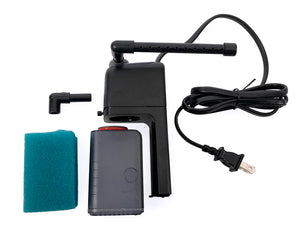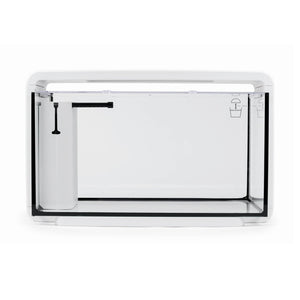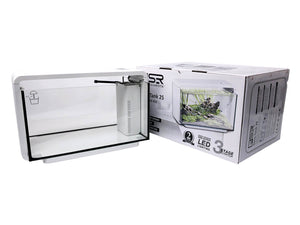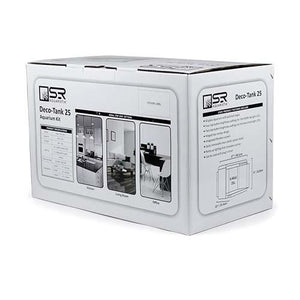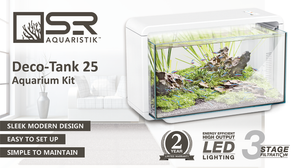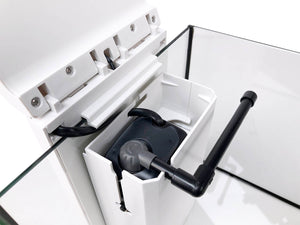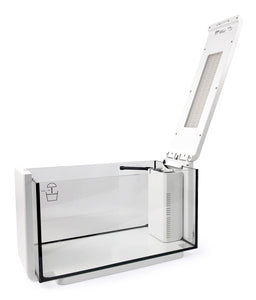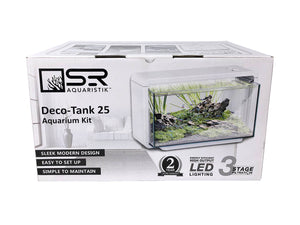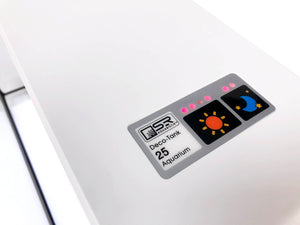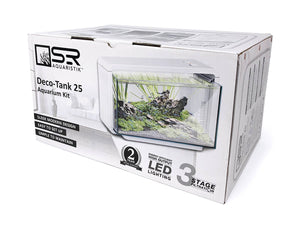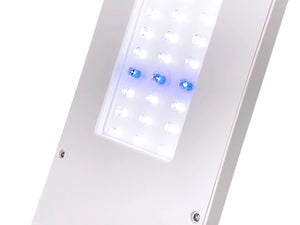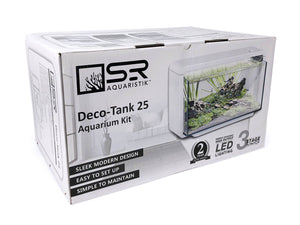 $169.98
This item is currently sold out.
he SR Aquaristik Deco-Tank 25 is a modern accent 6.6 gallons / 25L aquarium that is a perfect addition to almost any setting. The unique two-sided design allows the aquarium to be viewed by both sides without obstruction. The SR Deco-Tank 25 is ideal for kitchens, bathrooms, counter-tops or on desks in both the home and office. Available in black or white.
Key Features include:
All glass aquarium

Four touch button brightness settings  for the 6500K daylight LEDs

Two touch button brightness settings  for the blue/actinic LEDs

Hinged-top canopy design

Integrated filtration system

Easily removable clear plastic splash shield
Easy to Maintain
The hinged lighting canopy can be quickly positioned out of the way to perform routine maintenance or add fish, decorations, plants or soft coral.
Built-in Internal Filtration
The built in internal aquarium filter allows for inconspicuous filtering while providing water circulation and efficient mechanical, chemical, and biological filtration.
Filtration Media
The filter comes complete with a replaceable carbon cartridge that will remove discoloration and smells from the aquarium. The Bio-foam cartridge will mechanically filter or capture debris and also act as an efficient biological filtration media.
Water Circulation
The built-in internal filter draws water from the lower levels of the Deco-Tank aquarium and cycles it back to the top of the aquarium, providing ideal circulation and constant water flow, providing efficient mechanical and biological filtration. The filter also comes with a spray bar and integrated venturi valve for adding additional oxygen to the water for larger fish loads or when keeping goldfish.
Customizable LED Lighting System
The SR Aquaristik Deco-Tank 25 aquarium includes 51 advanced 6500K to 10,000K dimmable LED lighting system that can be easily customized with a tap of a button depending on the inhabitants of the aquarium. The brightest white light setting is Ideal for live plants and can be mixed with blue LED lighting making it Ideal for keeping soft corals.
Splash Shield
The SR Aquaristik Deco-Tank 25 comes complete with a simple to remove splash shield that will prevent fish from jumping and cut down on evaporation reducing maintenance. The splash shield is made from an extremely clear plastic that can be removed.
Integrated Space for a Submersible Heater
The SR Aquaristik Deco-Tank 25 allows for the integrated placement of a submersible aquarium heater, we recommend a 25W or 50 W submersible heater.
(Please note that a submersible heater is not included)
Product Specifications:
Size:
Lighting:
45 - 6500 K white LEDs

6 – Blue/actinic LEDs

5 Watts
Filter Flow Rate:
Dimensions:
17"L x 10"W x 9"H

43.1cmL x 25.4cmW x 22.8cmH
Guarantee and Warranty Information:

If you are not 100% satisfied with your purchase, you may return it for a replacement or a refund of the full product cost within 30 days of your purchase (some restrictions apply). It's part of our no-risk customer guarantee!

The SR Aquaristik Deco Tank 25 Aquarium has a 1 Year Limited Warranty. Please contact us for details.
Product Video:

Deco-Tank Manual: